Here we go with the moment you have all been waiting for: The 2007 Heismanpundit.com Preseason Heisman Watch.
Unlike a lot of Heisman watches, my preseason list is intended to determine which players have the best chance of actually winning the trophy at season's end. If a player does not have a shot at winning the Heisman, he is not on this list.
Therefore, the following list is NOT a prediction of the eventual order of the voting, but a gauge of the strengths of each of the top candidates. I will put out top 10 updates predicting the vote order from time to time, but this is not one of them.
I can say with extreme confidence that the Heisman winner will come from the following group of players. THESE ARE THE ONLY GUYS WHO CAN WIN! For the first time, my Watch includes two players who share the top spot heading into the season. After taking into account all the offseason action and the pros and cons of each player, I just can't find a way to separate the two at this point, as far as their Heisman chances go:
1. John David Booty, USC/Darren McFadden, Arkansas
These two are far-and-away the front runners for the Heisman. Being the front runner means that you have the most strengths heading into the race. Here's how I broke down McFadden and Booty by each Heismandment.
Heismandment No. 1–Tie
Heismandment No. 2–Tie
Heismandment No. 3–To be determined
Heismandment No. 4–Advantage McFadden
Heismandment No. 5–Advantage Booty
Heismandment No. 6–Advantage McFadden
Heismandment No. 7–Advantage Booty
Heismandment No. 8–To be determined
Heismandment No. 9–N/A
Heismandment No. 10–Tie
To sum up, neither has any position deficiencies, nor any class liabilities. McFadden has been getting the most preseason Heisman hype, but Booty's team is No. 1. Voters probably consider Booty more a product of USC's system, while McFadden is seen as an impact talent. However, a player from USC tends to have more institutional Heisman pull than a player from Arkansas. Both are likeable, though not necessarily household names.
So all things being equal, who would win the Heisman if both players had great seasons for undefeated teams? It would be McFadden in a landslide because he would be seen as lifting his team to new heights. But it is unlikely that Arkansas will go undefeated and that is where things get complicated.
I think that if McFadden surpasses his sophomore season when he rushed for 1,647 yards and 14 TDs, then he is likely to win the Heisman regardless of what anyone else does if, like last year, Arkansas can get to 10 wins by the time of the vote.
If Arkansas does not get to 10 wins, then McFadden will have to do more statistically. He will have to get much closer to 2,000 yards to overcome doubts about his team. Naturally, this will be difficult with a player like Felix Jones taking carries from him.
One advantage that McFadden has in his favor is his reputation as a multi-dimensional player. He will once again play some quarterback in the 'Wildcat' formation as well as return kicks. This gives him more chances to impress the Heisman voters. If there is one thing that captures the imagination of the Heisman electorate, it is having a multi-dimensional repertoire.
The biggest threats to McFadden's candidacy include the historical volatility of the Razorback squad, the continued improvement of Jones and the lack of a legit passing game out of Casey Dick, which could lead to the creation of eight-man defensive fronts designed to stop the talented junior.
McFadden's greatest strengths are that he has been the recipient of the most preseason hype and is now seen as the front runner by the working college football media, that Arkansas can lose as many as two or three games without affecting his candidacy and that he is the prime headliner for the Year of the Running Back in college football. Oh, and it doesn't hurt that he is projected as a top pick in the next NFL draft. We also know that he is not coming back next season, so voters will keep in mind that this is their last chance to pick him for the Heisman. In that sense, he is like a senior.
McFadden is weakest with Heismandment No. 5 and No. 7. Arkansas needs to tout McFadden as the heart and soul of an overachieving team to allay fears about No. 5 and should point out that no SEC back has won a Heisman since 1985 and doggone-it, it's about time one did, to counteract No. 7
As for Booty, he's got a bunch of advantages but possibly one fatal flaw.
Face it, without Booty, USC would not be the No. 1 team right now. So, the notion that he is only a candidate because of his status as Trojan quarterback is hogwash. He is a co-front runner because his presence has helped make USC the top dog.
In reality, he had a nice Heisman set-up year in 2006, with 3,347 yards, 29 TDs and just 9 interceptions. These numbers are very close to those of his Heisman forefathers at USC.
If Booty puts up similar numbers in 2007 and he leads USC to an undefeated season, he will have made a great case to win the Heisman.
But will he?
In the end, it may depend on what his co-front-runner does. If Booty goes well and USC goes undefeated while Arkansas and McFadden slip up and fail to get to 10 wins, then Booty is your likely Heisman winner, everything else being equal. In this scenario, it would take a uniquely superlative season on the part of one of the other candidates–such as Slaton or Brennan–to overcome Booty.
Booty's strengths in this race include his position as the quarterback for the No. 1 team–one that also happens to be a traditional Heisman power. He will be on TV a bunch and has some marquee games to state his case. Talent-wise, he is considered one of the more accurate passers around, with a strong arm. He is surrounded by a bunch of talent, but it is young enough in places like receiver and running back for the perception to take hold that he is the one keeping the Trojan offense together (this is a perception that helped Matt Leinart for much of 2004). He doesn't have to do anything particularly special this season to win–he just needs to play consistently at a high level and lead his team to victories. It is a misnomer that a 'Heisman moment' is needed to win, as Leinart, Chris Weinke and Jason White each had no such moment and yet won handily.
On a mystical note, this is the 50th anniversary of the last and only time someone named John David won the Heisman (John David Crow, 1957).
Booty's main weakness is that his Heisman hopes are inextricably linked to the fortunes of his team. USC has to go undefeated, or at least make the BCS title game with one loss, for him to have a chance at the Heisman. It is certainly possible that a single loss could cause his Heisman hopes to implode without hope of repair. This is not the case with McFadden, who could weather a loss much easier. There will also be the issue of USC-fatigue. Will voters pick the third Trojan quarterback in five years?
Booty's one Heismandment deficiency is in regards to No. 6. He is seen by many as a product of USC's system and he will naturally be compared to Carson Palmer and Leinart as the season goes on. USC needs to make the case that Booty is a talent in his own right and that his accomplishments were the key to his team's success. If USC fails to make this case, then Booty will be perceived as just another cog in Pete Carroll's recruiting machine.
In the end, these are two worthy candidates for the most prestigious award in sports. Whichever one can best capture the spirit of the 2007 season will take home the trophy.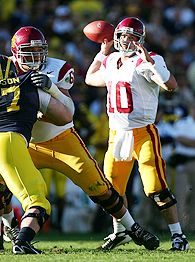 The Front Runners
Now, the rest of the field:
3. Steve Slaton, West Virginia–He has built an outstanding Heisman resume, with 1,128 yards in year one and 1,744 yards in year two. He was fourth in the race last season. He is an exciting player on a possible national title contending team and if he surpasses what he did last year, he has the best shot of winning the Heisman if the two front runners slip up.
4. Colt Brennan, Hawaii–Brennan's problem is that to win he probably has to approximate his stats from last season, when he threw for 5,549 yards and 58 TDs. Everyone else's problem is that he just might do it, as this year's new rules will lead to an increase in plays for the Hawaii offense. If Brennan's numbers don't look like last year's, he has no shot, but if they do, then he could win if the top three guys don't get the job done.
5. Jamaal Charles, Texas–I know, many of you are probably asking what he is doing this high on this list. He has yet to eclipse 1,000 yards in a season, mainly due to having to share carries in crowded backfields his first two years. But an upper-class running back from Texas is always in this race if he has a good season. Charles is maybe the fastest back in the country and he will have a bunch of highlight runs. If he gets over 1,500 yards, then you will not question his Heisman credentials any longer.
6. Brian Brohm, Louisville–Maybe the top-rated pro prospect of all the quarterbacks and could lead his team to an undefeated season. He is hurt by not having a marquee game to state his case until Nov. 8 against West Virginia. He is an efficient passer and if he leads the nation in that stat and the Cardinals roll over everyone, then he could make a strong run.
7. Patrick White, West Virginia–There is not much credence to the notion that teammates harm other teammates in Heisman competition. There are plenty of cases of a player winning while a teammate also finishes high in the voting. At some point, either White or Slaton will be considered the top Mountaineer in the race and the focus will shift accordingly. If Slaton falters, or loses yards to freshman phenom Noel Devine, then White could easily fill that role of Heisman candidate. Being a dual-threat dynamo helps, as he will impress on the ground and in the air.
8. Chad Henne, Michigan–Henne is a senior quarterback on a highly-ranked traditional power. He has had a solid career and showed in the Rose Bowl that he is capable of putting up flashy numbers. Will the voters look to the Big Ten for another quarterback? Maybe not. But Henne is solid enough to be considered a legit candidate at this time.
9. DeSean Jackson, California–It's hard to win a Heisman playing for Cal, but Jackson could put together a Desmond Howard-like run if the Bears beat USC and win the Pac-10. He is the most exciting player in the country and the beneficiary of a recent ESPN Magazine cover. He's also the mouth that roared, which could garner attention–or detractors–depending on how he performs. A big early game against Tennessee helps him and then there is the tilt against USC in November. Beat the Trojans and he could be on his way to NYC.
10. Mike Hart, Michigan–Hart is the Bob Dole of the Heisman race. He's been around for so long, it almost feels like it's 'his turn' to win. He is a reliable grinder of a back who rarely fails to come through for the Wolverines when they need him. He's not the flashiest of players, though, and it would take a lot of craziness for him to emerge from this far back in the pack.
11. Sam Keller, Nebraska–My darkhorse in the race is Keller, who will have a chance to put up big numbers for a traditional power that has been dormant in the Heisman race for the better part of this decade. He's got a key matchup with USC early to set the stage and a showdown with Texas later to punctuate things. He may never gain a vote in this race…or he could end up at the podium in New York, the prime reason for Nebraska's resurgence.
Well, there are the 11 players who can win the 2007 Heisman. As the season goes on, I will eliminate and pare things down until only the players who can still win remain. At some point, I will call the race and then we will see if, once again, my call holds up.
In the words of UFC ref John McCarthy, let's get it on!
Powered by

Sidelines