We did the 2008 HP All-American Offense team on Friday, now the defense:
Defensive Ends
1st team–Brian Orakpo, Texas; Aaron Maybin, Penn State
2nd team–Brandon Graham, Michigan; Jerry Hughes, TCU
3rd team–Clay Matthews, USC; Nick Reed, Oregon
Orakpo and Maybin wreaked havoc all year long for two teams that just missed out on the national title game.
Defensive Tackles
1st team–Gerald McCoy, Oklahoma; Peria Jerry, Ole Miss
2nd team–Fili Moala, USC; Terrance Cody, Alabama
3rd team–Mitch King, Iowa; Brian Price, UCLA
McCoy was the main cog in the middle for the Sooners while Jerry was a pariah to SEC offenses.
Outside Linebacker
1st team–Brian Cushing, USC; Sean Weatherspoon, Missouri
2nd team–Sergio Kindle, Texas; Clint Sintim, Virginia
3rd team–Kaluka Maiava, USC; Rennie Curran, Georgia
Cushing was the most outstanding backer on the No. 1 defense, while Weatherspoon was one of the few bright spots for the Tigers on that side of the ball.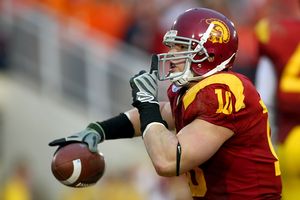 Inside Linebacker
1st team–Brandon Spikes, Florida
2nd team–Rey Maualuga, USC
3rd team–James Laurinaitis, Ohio State
Spikes was a preseason HP All-American and did not disappoint, as he led a resurgent Gator defense.
Cornerback
1st team–Vontae Davis, Illinois; Malcolm Jenkins, Ohio State
2nd team–Trevard Lindley, Kentucky; Alterraun Verner, UCLA
3rd team–Cary Harris, USC; Syd'Quan Thompson, Cal
Davis and Jenkins were not only the best corners in the Big Ten, but also the country.  Both will be first-round picks.
Safety
1st team–Taylor Mays, USC; Eric Berry, Tennessee
2nd team–Rashad Johnson, Alabama; Kevin Ellison, USC
3rd team–Morgan Burnett, Georgia Tech; Michael Hamlin, Clemson
Both Mays and Berry were on the HP preseason team and both had magnificent seasons.